West Virginia
State Senators want slow drivers out of the fast lane
Story by David Beard, The Dominion Post
CHARLESTON, W.Va. – Members of the state Senate Committee on Transportation and Infrastructure enjoyed a vent session on Monday addressing the issue of slow drivers in the left lane.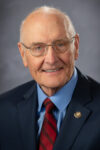 Committee chairman Charles Clements, R-Wetzel, put it gently: "A lot of people feel like there's too much slow-moving traffic in the left lane."
Sen. Mike Stuart said more jokingly: "This is one of the great confounding social nuisances in human history. I think they think it's their right to hang out in the left lane forever."
Lt. Anderson of the West Virginia State Police told senators that state code says drivers should keep to the right when traveling less than the posted speed limit or when overtaking and overtaking another vehicle in the same direction.
In other words, the left lane is for overtaking, not travel, the senators agreed.
Anderson said some states, like Ohio, allow driving in the left lane as long as the speed limit is not exceeded.
When he's on traffic duty, he said, he often pulls over drivers from out of states who don't know West Virginia's left-lane laws and drive slowly in that lane. While he sometimes issues tickets for this, he prefers to train the drivers.
Division of Highways chief engineer of operations Greg Bailey said it was a complicated issue. Sometimes people will pass in the left lane and only drive 1 or 2 mph under the limit while someone in a hurry is right in their lane. In these cases it is not someone driving too slowly, but someone else driving too fast.
"We believe this is primarily an enforcement issue." And it's difficult to enforce. What DOH can do would be primarily educational.
Other senators mentioned other issues. Sen. Chuck Swope, R-Mercer, said semi-trucks would pass other slow-moving semi-trucks, but they would also be traveling slowly relative to other traffic, dangerously clogging both lanes.
Sen. Mark Hunt, R-Kalawha, spoke about highways being in such poor condition that the right lane cannot be used and everyone is being forced into the left lane.
The senators suggested various possible measures to try to remedy the problem somewhat. Clements suggested interstate signage to say "keep right except to pass."
Senator Robert Karnes, R-Randolph, said some states have different speed limits for different lanes.
The Committee did not reach any firm conclusions. Bailey brings some ideas back to DOH, and Clements said the committee will revisit the issue at a future meeting.