Virginia
O'Brien's Oyster Bar & Seafood Tavern
On a cold and rainy afternoon at the Chesapeake Bay Media offices in Eastport, I found publisher John Stefancik sauntering around the kitchen looking for food. I was in distress myself, so we drove across the bridge into downtown Annapolis to O'Brien's Oyster Bar and Seafood Tavern for lunch.
We were seated quickly and our waitress Markia greeted us and took our drink order. I was thrilled to see a Greg Norman wine on the menu – I'm a fan of their blends and Cabernet Sauvignon – and ordered a glass of Shiraz ($12). It was a great choice with bright flavors, black cherries and cloves. John settled on a Black and Tan, a combination of Yuengling lager and Guinness stout ($7), which he was pleased with.
We decided to split an order of Rockefeller Oysters ($17.95) for appetizers. I love oysters, but Rockefeller oysters aren't high on my list of cooking options. That changed after thoroughly enjoying the version at O'Brien's.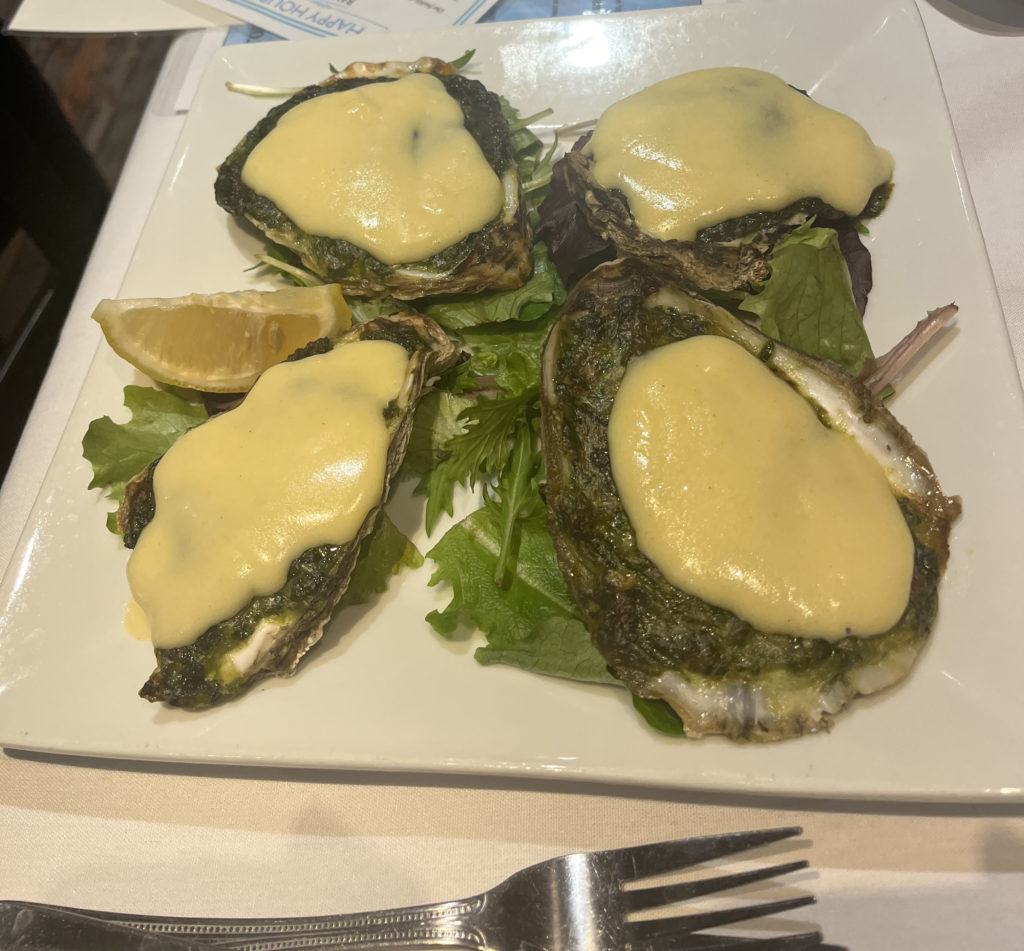 Roasted local oysters were topped with creamed spinach, Pernod, parmesan cheese and hollandaise sauce. John and I both agreed it was the best version of Rockefeller oysters we've both tasted. The best way to describe the dish is "wary". The creamed spinach was good enough to be a standalone side dish.
Markia was very knowledgeable about the menu and was able to answer any questions about ingredients, spiciness, etc. We both remarked on the friendliness of the staff and how happy they all seemed to be part of the O' team. Brien's which made the afternoon even more enjoyable.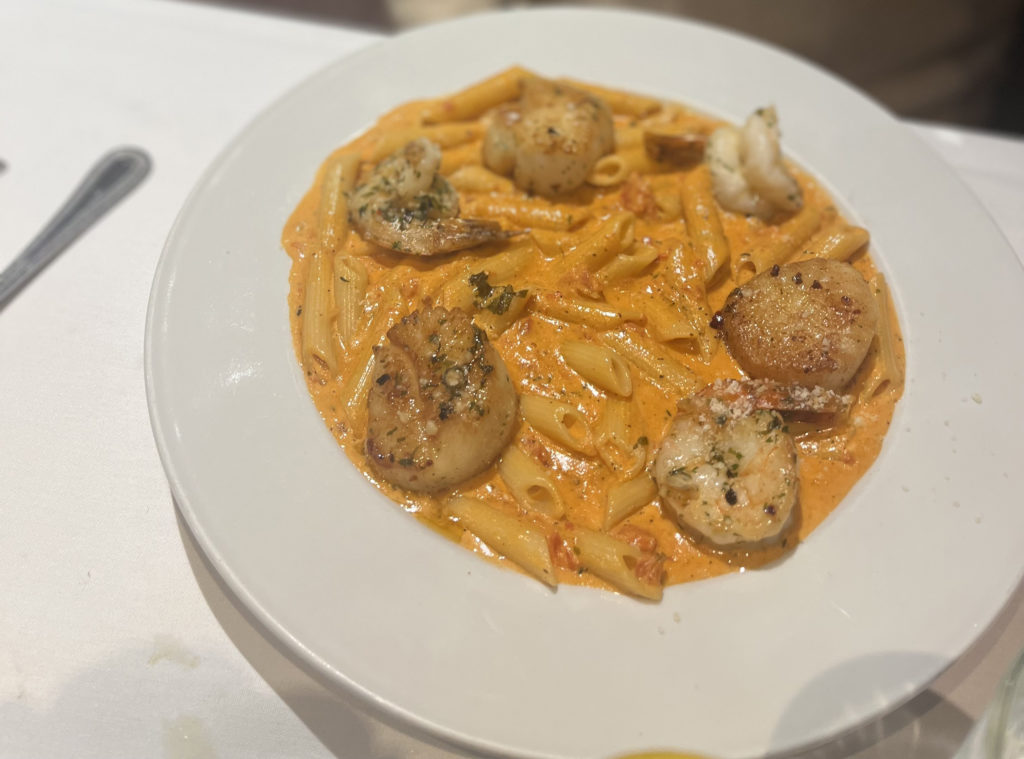 Based on Markia's recommendation, John opted for the Spicy Cajun Seafood Pasta ($31.95). Penne is tossed with shrimp and scallops in a flavorful creamy Cajun sauce. John has been spending a lot of time in New Orleans lately, so he was on a spice kick. He called this a great dish with the perfect amount of seasoning. "The scallops are juicy; The pasta is cooked to perfection and there's a hint of pepper – which I love," he said.
I opted for the crabcake sandwich ($24.95, top photo). Jumbo lump crabs are topped with lettuce and tomatoes and served on a toasted potato bun with fries. The crab cake was large with lumpy chunks and very little filler – just enough to bind together. It came with cream of tartar and cocktail sauce, but I used cream of tartar. The potato bun was toasted to perfection and the fries were a large portion.
We were too stuffed to try the dessert but decided to explore the top floor – we both realized we'd never ventured to the second floor despite growing up in Annapolis. We were surprised to discover a wine bar, banquet room and former cigar lounge now used for Fantasy League draft nights (email [email protected] if you are interested in booking).
As we headed back into the cold and rain, I looked back at the bar and realized a perfect evening would consist of sharing Rockefeller oysters with wine and a date.
A few other things not to miss are 99-cent oyster nights Monday through Thursday from 3pm to 7pm and all day on Wednesdays; Happy Hour Monday-Friday 2:00pm-7:00pm and O'Brien's Fast Lunch Specials Monday-Thursday 11:00am-4:00pm
Krista Pfunder grew up in Davidsonville and attended St. Mary's in Annapolis. She graduated from Randolph-Macon College in Ashland, Virginia, where she was the newspaper's editor.