Tennessee
Calipari's message to Kentucky: "Just win days," says CJ Fredrick
Kentucky's CJ Frederick was one of two players sent out to answer questions at Kentucky Basketball's press conference Monday in Lexington before Georgia is hosted by the Wildcats. Among the topics of the morning conversation, the veteran security guard, who scored 13 points in Tennessee on Saturday, revealed Calipari has told his team to win every day and every practice session instead of worrying about the big picture.
According to Fredrick, between the shocking loss to South Carolina and the team's flight to Knoxville, the team combined two solid days of practice, and Calipari's win-every-day mentality helped Kentucky win the game against the Volunteers.
"That was a big deal for us," said Fredrick on Monday, looking back on Saturday's win. "You know, we've been through a lot and we've had two really good days of training and, you know, The trainer was very focused on just winning every day and that starts in practice and the stacking days, so we had a lot of confidence going into those two practice days because we felt like we were winning on those days and we had really good days. Then we won against Tennessee and then we're going to have two really good days – we had a good day of practice yesterday, have another good day today and just keep winning."
Now, with four great days in a row, Fredrick was on his way to Monday practice ahead of Georgia to make it five when he stopped by the media room for a quick chat, where he admitted Kentucky's confidence was sky high when he last entered the Thompson Boling Arena went weekend.
"You could just see it in our eyes and the way we played," explained Fredrick. "Even off the plane, when we were leaving for Knoxville and we got off the plane, Coach kinda stopped us and was like leave your worries on this plane. And as soon as we got off the plane, we knew we were going to win the game. And we went into the game knowing we were going to win. Dive to the bottom, don't back down from anyone, and we just felt that way about ourselves that afternoon."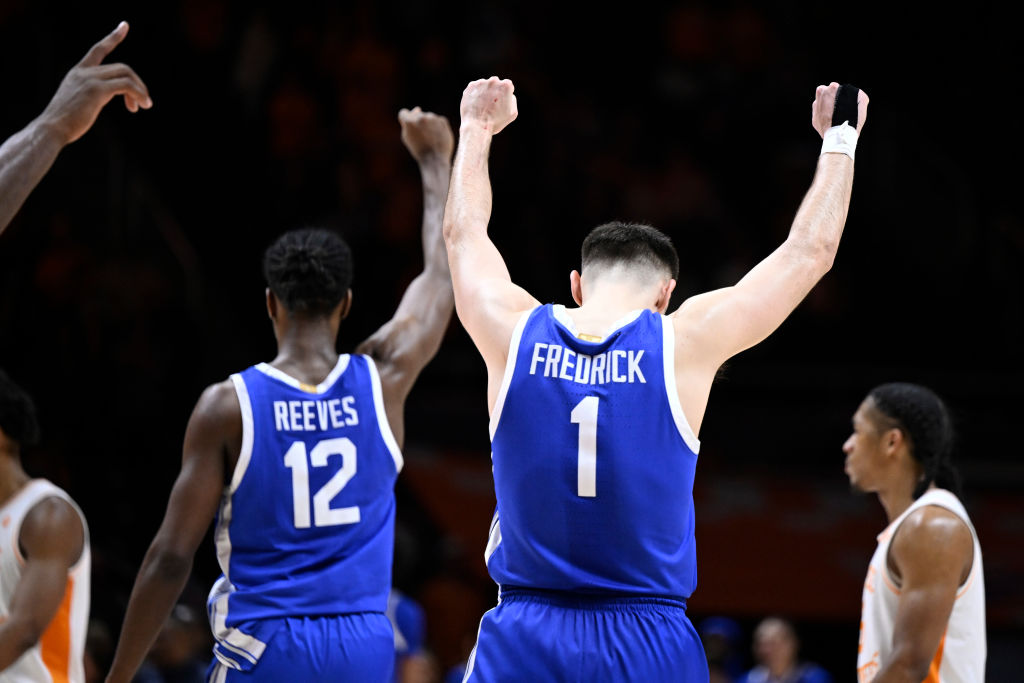 Looking ahead to the game against the Bulldogs at the Rupp Arena, Fredrick told reporters, "They're a really good team. They have really good guards, good bigs, they have good offense. So we have to do a good job today to grasp and understand the game plan and prepare for tomorrow.
"Coach said just Stack Days, Win Days, Win Days in training. We had a good film session yesterday, learned things that we needed to fix and had a good practice and go back out today and win today and get ready to play a really good Georgia team and go out and try to do one tomorrow to get. "
Losing South Carolina is one of the worst Fredrick has ever known
Tuesday night's Georgia game is the first at the Rupp Arena since Kentucky stunned South Carolina a week ago. The team has since gotten over that crushing loss by upsetting Tennessee in Knoxville, but Fredrick admitted losing to the Gamecocks and getting over the loss was painful.
"It wasn't easy because this loss hurt me," he said on Monday. "I mean we don't want to look back in any way but in my five years as a player that's probably what hurt me the most because after that game the guys sat in the dressing room for quite a while just being nice of staring around. That feeling in that loss was definitely a motivator for going to Tennessee.
Fredrick is looking forward to playing in front of his home crowd again on Tuesday night. "We feel like we definitely need to get one back," he said.
"I think Tennessee, you saw a different kind of fight. I think we need to build on that and continue that in Georgia and for the rest of the season.
CJ Fredrick, Adou Thiero Preview of the game against Georgia
Subscribe to the KSR YouTube channel for press conferences, interviews, original shows, fan features and exclusive content.