South Carolina
Charleston Southern coach Gabe Giardina adds 16 to recruiting class | Colleges
Charleston Southern freshman football coach Gabe Giardina announced Wednesday the signing of 16 high school players, bringing the total of 2023 signings to 24 new players.
CSU signed eight players during the early signing phase in December and Giardina says three other players who are already transfers are enrolled at the school.
The coach, who was hired by Albany State in December, says he and his staff have improved the overall level of talent on the CSU roster.
"I want to say how excited I am that our first signing class is complete," the coach said. "It was a lot of hard work and effort from a lot of people. Our staff did a great job finding players to match Charleston Southern.
"We watched a lot of films from people who were already here and sort of created a board where we felt we had the greatest needs. We identified those areas and went out and tried to find the guys that would fit. We really have a lot of our top goals. We've found kids who we think can jump right in and compete."
CSU landed two of the best prospects in the Lowcountry in Fort Dorchester quarterback Zolten Osborne and Timberland linebacker Omari Jenkins. Hanahan safety Malik Horry and First Baptist defenseman James Pisano are also inked with the Buccaneers.
In all, CSU will have eight new freshmen who played their high school football in South Carolina.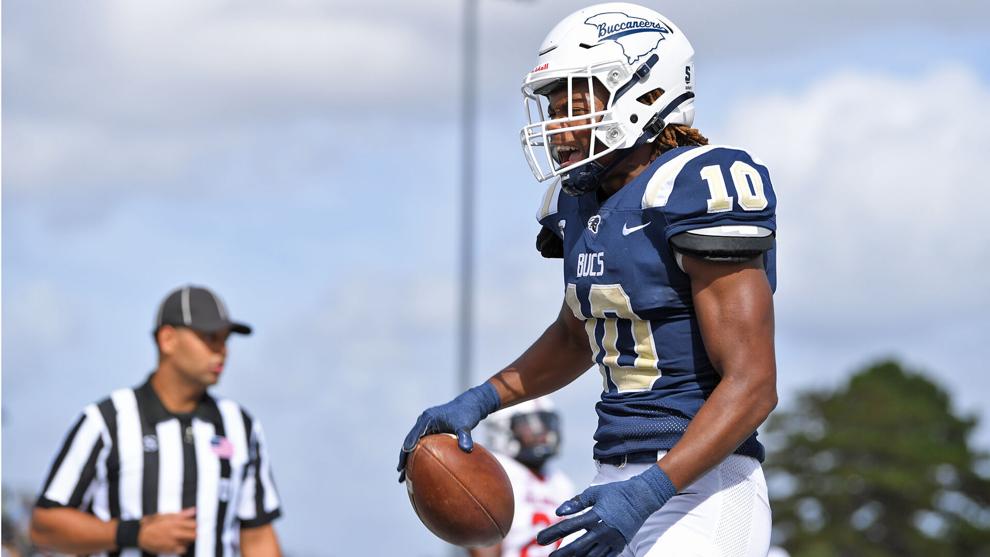 "Excited to have a major impact from the Palmetto State on this class," Giardina said. "We've got eight guys between midyear and now, we've got four Shrine Bowl guys and three North-South guys. That shows the quality of football that we have in this state. We've got some high quality guys from here in the Lowcountry, so that's exciting."
Although there are already several quarterbacks on the CSU roster, Giardina has made Osborne a priority as the only quarterback to sign in that class.
"I am very happy to include Zolten in our program," he said. "He has a great deal of calm in his pocket. Nothing seems to upset him. He appears in every game. We had the chance to sit with him and his family and they are great people. It's exciting to get these really good players to stay home."
Giardina says CSU will begin spring training on March 13, with the annual spring game scheduled for April 14.
Charleston Southern Sign Class
Player, Pos., Ht., Wt., High School, Hometown
E'sean Arnold, DB, 6-1, 190, Eastside, Covington, Ga.
Champ Brantley, DB, 6-0, 190, Mary Persons, Forsyth, Ga.
Lee Brown, DB, 6-0, 180, Houston County, Warner Robins, Georgia.
Tyler Glover, TE, 6-5, 225, Whitewater, Fayetteville, Ga.
Tyson Greenwade, RB, 5-11, 185, Dalton, Dalton, Ga.
Malik Horry, DB, 6-1, 170, Hanahan, Hanahan
Autavius ​​Ison, RB, 6-0, 205, Riverdale, Riverdale, Ga.
Omari Jenkins, LB, 6-2, 225, Timberland, St. Stephen
Noah Jennings, WR, 6-1, 170, Westwood, Blythewood
Cam Johnson, DL, 6-2, 285, Seneca, Seneca
Jaquez Kindell, WR, 5-11, 180, Plant, Tampa, Fla.
Zolten Osborne, QB, 6-2, 205, Fort Dorchester, North Charleston
James Pisano, DL, 6-1, 235, First Baptist, Charleston
Taylor Smith, OL, 6-5, 275, Brookwood, Snellville, Ga.
Leon Thomas, DB, 5–9, 185, Stockbridge, Stockbridge, Ga.
Juliuz Walton, OLB, 6-2, 215, Central, Carrollton, Ga.