Oregon
Oregon has become Arizona's nemesis, a rivalry that will only grow after UCLA departs
Fifty years of McKale Center history are now in the books, and arguably Arizona's greatest rival to have set foot on the scene, UCLA, is on its way out.
Fittingly, the final men's basketball game of McKale's first half century was the Wildcats' 58-52 win over the Bruins, who are unlikely to return to Tucson next season and will join the Big Ten in 2024-25.
But perhaps it's also fitting that for the first game of McKale's second half-century, the team that has actually been the Wildcats' greatest nemesis for the past decade — and possibly well into the future — arrives.
Yes, we're talking about Oregon.
Not only did the Ducks win three straight games at the McKale Center until Arizona achieved an 84-81 win late last season, but they also won four straight games in overtime against the Wildcats, including a semifinal of the Pac-12 Tournament 2016 in Las Vegas. Early in the 2015-16 season, Oregon also snagged Arizona's 49-game winning streak … at McKale.
"It's always fun to play here," Oregon coach Dana Altman said earlier this week. "I know our boys are looking forward to the challenge."
Since Altman's second season in Oregon in 2011-12, the Wildcats were only 7-14 against the Ducks — and only 4-5 against Oregon at McKale. Against UCLA in that period, Arizona is 12-13.
Additionally, the Ducks have inflicted some of the most painful losses on Arizona in the past decade, beginning with their 83-75 win over the Wildcats on Jan. 28, 2016, which ended Arizona's 49-game home streak and caused red-eyed Ryan Anderson to forward to himself to apologize to the fans, and then coach Sean Miller to hold a classic post-game press conference.
"I've never been more crushed looking at a team I was coaching than what I just saw," Miller said after that game. "We probably have to deal with two things. First, Sean Miller is your coach and you're going to play for me, and number two is you're going to play so hard you can't breathe.
"And if you can't be extraordinarily dedicated to our basketball program, to this team and to this university, we're going to put four guys out there."
Later that season, things didn't get any better when the Wildcats rebounded from a 17-point deficit against Oregon in the semifinals of the Pac-12 tournament … only to have rebounded 95-89 in overtime and then (probably as a result ) were shipped to Providence, Rhode Island, where they were upset in their first game of the NCAA tournament.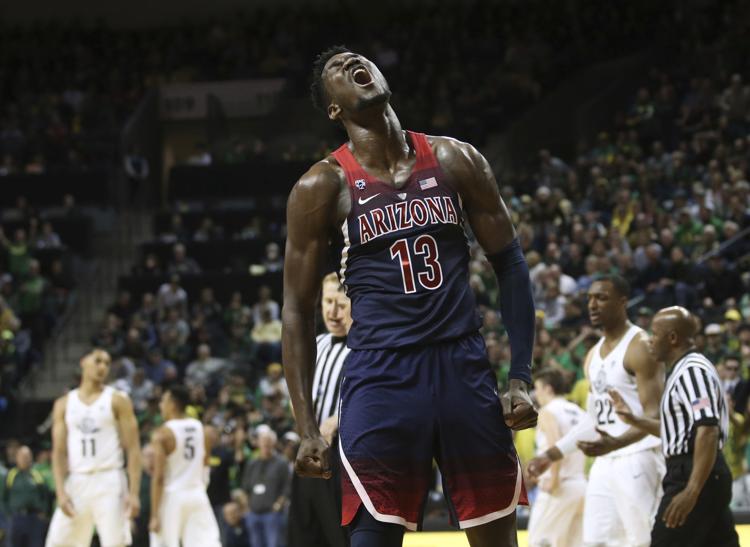 There was also that memorable 2017-18 affair in Eugene, when Miller abruptly left the team after an ESPN report the night before said he discussed a pay-for-play program for star center Deandre Ayton.
Fans waved "100 Grand" candy bar signs at Ayton and booed him whenever he had the ball. An enraged Ayton responded with 28 points and 18 rebounds and played a grueling 44 of a possible 45 minutes, but the Ducks ran 14 of 33 3-point shootings in a 98-93 overtime win.
"It's very tough," said reserve coach Lorenzo Romar afterwards. "Our leader isn't with us, so it's tough. But I thought our guys were phenomenal the way they came out."
That game was the first of a seven-game losing streak against Oregon that the Wildcats didn't break until center Christian Koloko helped finish off perimeter players on the Ducks' last two holdings in Arizona's 84-81 win last season.
But then, on Jan. 14 in Eugene: Oregon 87, Arizona 68 — the widest loss margin for the Wildcats since Tommy Lloyd took over Miller last season.
"They were basically able to mistreat us for most of the game," Lloyd said Wednesday.
Perhaps it helps the Wildcats to have a fresh memory from this game, how their Jan. 7 loss to Washington State led to a Jan. 26 win at WSU.
"They hope so," Lloys said, while also noting that Oregon "seems to be playing its best basketball right now. Of course we saw it and felt it first hand… I'm curious to see how our boys react to it."
The two figures Arizona made available for comment Wednesday — Lloyd and freshman guard Kylan Boswell — probably haven't been around long enough to see a bigger picture with Oregon.
"I'm not sure yet which teams other than ASU are truly rivals," Boswell said.
As Miller and Lloyd have noted over the years, all opponents tend to do their best against Arizona.
Except that Oregon has mostly turned their efforts against Arizona into a win for the last 12 seasons.
"I've only played them a couple of times and they played well both times," Lloyd said. "I mean they have a coach who has won a lot of games, they've had a lot of success as a program. They have really talented players and that's usually a formula for a tough night."
Maybe many hard nights in the future too.