North Dakota
Winter Play: Ice climbing on the North Shore – InForum
As the winter chill bites deep, MPR News celebrates the best of the season with a new series called Winter Play. Our employees across the state set out to try a new winter pastime. Reporter Dan Kraker tried his hand at ice climbing for the first time on a cliff north of Two Harbors.
TWO HARBORS, Minn. – I think a lot of people, when they even think about ice climbing, have two ideas in mind – that it looks really difficult (if not a little crazy), and it looks dangerous.
Well, depending on the incline, it can definitely be exceptionally challenging.
But for a beginner like me, going with experienced climbers who certainly know their stuff, "the most dangerous part of climbing is getting up the crag, especially on a day like today," claims Dave Pagel. He's a longtime Duluth climber who agreed to take me ice climbing on a snowy and windy day at a place called Silver Creek Cliff on the shores of Lake Superior a few miles north of Two Harbors.
My first step was to equip myself. For about $30, I rented the gear I needed for the day from the University of Minnesota Duluth Outdoor Recreation Center: boots, crampons, harness, and helmet.
Dave and his longtime climbing buddy Rick Kollath provided the rest – two light, curved ice axes, the ropes and, most importantly, the expertise.
Dave gives me a short lesson in ice pick technique.
"You swing with a little momentum and you get the tool to stick," he explains. Then "sag" back off the cliff a bit so you can see your feet. Then you put your feet up, 'Clunk. Klunk.' "
He makes it sound so easy.
Pagel wrote a book called Cold Feet: Stories of a Middling Climber a few years ago. But Pagel is anything but mediocre. He and Kollath (who met as students at UMD 45 years ago and have been climbing together ever since) have climbed some of the world's most famous peaks, from El Capitan in Yosemite to the Matterhorn in the Alps.
In fact, they started ice climbing so long ago that they admit they might not be the best teachers – they're self-taught, and the equipment has changed significantly since first learning.
"But I think we can point you in the right direction," Pagel assures me. "What's up."
Meanwhile, Rick sets up what he calls a "top rope." He scales the icy wall and loops the rope through an anchor at the top of the cliff. This way, if I slip off a cliff while climbing, I don't fall – I just hang in the air while Rick belays me from below.
Then I tie myself into the rope through my climbing harness and I'm done. "Let's do this!" I say with feigned confidence.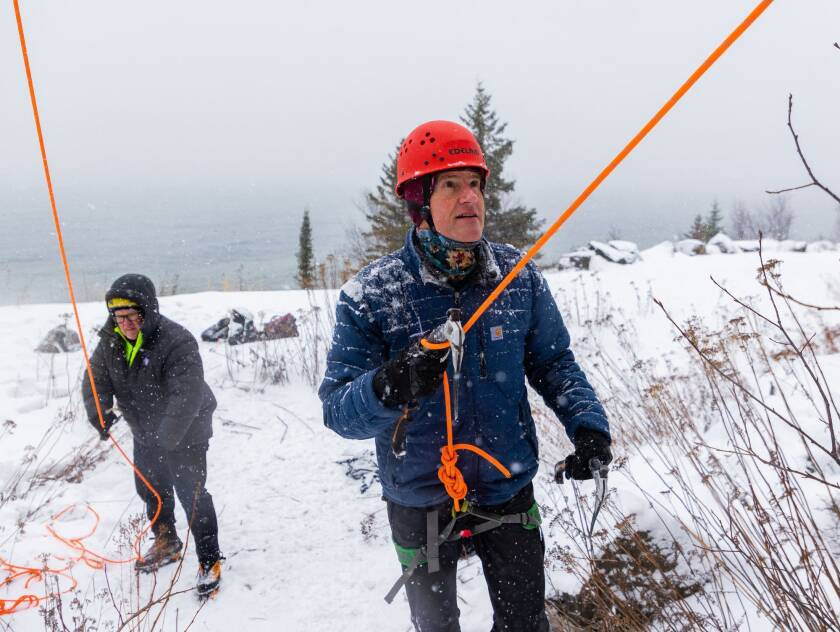 I walk up to the cliff where dripping water has frozen into a vertical sheet of ice about 70 feet high. I'm looking for a spot to stick my first axe.
Then I kick in one of my crampons, which has a spike on the front of the shoe that goes straight into the ice. I kick one, then the other. Then I get up and try to get into my next axe.
Eventually I'll find the rhythm. Get a good solid placement with one of my axes. Then I pick up a foot, put it in the ice. Then the other foot. Then I stand on these new footrests, take out one of the ice axes and find a new footing. And repeat.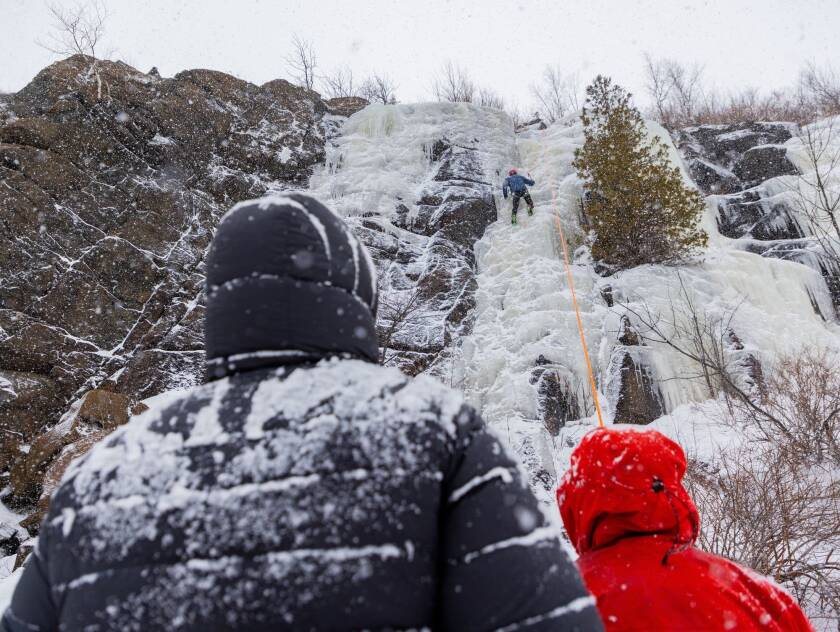 And before I knew it, after about 10 minutes, I did it. "I'm here, I'm up!" I yell to no one in particular.
I stop and enjoy the view. Snow continues to fall in thick flakes as waves lap the shore and crash against the rocks far below on Lake Superior.
I lean against the rope and Rick lowers me. As I descend, I press my feet against the cliff—"Batman style," as Dave puts it—until I'm back on solid ground.
"That was fun!" I say. "You looked great," Dave tells me. I don't really believe him.
"It takes such a climb to realize, okay, that's what's going on with the axe. That's how it sticks," he says.
Pagel describes ice climbing as "Type Two" fun, especially for beginners like me.
"What's fun, what's not necessarily fun, before or when you do it. But afterwards you just get a huge rush and a sense of accomplishment."
"That's how I felt just now!" I say.
"And I think there's value in that," says Dave. "I think there's value in challenging yourself to do something when you're like, 'I don't really want to do that! What am I doing?' "
For me, a lot of it was just trusting my crampons and axes to hold me up. It's remarkable, says Dave, how the tiny tips of the axes and the front tips of the crampons may only bite a fraction of an inch, but how rock solid they feel.
Rick Kollath says climbers use a term called "flow."
"That you are here [where] They are unaware of the passage of time. You are so involved in this activity that you are doing. It's totally absorbing. And climbing, I would say, encompasses as much as anything I've ever done."
While I don't know if I felt any real "flow," I was so focused on the ascension that I sort of tuned out everything else.
Rick says the feeling can be so intense. This always brings him back to ice climbing. And I have to say, I could see that it brought me back too. If I can persuade someone to take me out again.
Where from: Ice climbing festivals are a great place for an introduction to the sport. The Duluth Ice Fest is scheduled for Saturday, February 4th at Quarry Park. Ice parks in Duluth, Sandstone, and Winona offer farmed ice for predictable climbing, with local businesses offering equipment rentals and guide services.
Corridor: A great place to rent inexpensive gear is at outdoor recreation programs at universities across the state. The University of Minnesota, Winona State University, University of Minnesota Duluth, and others rent ice climbing equipment. And you don't have to be a student to access it.
How much: The cost of renting boots, crampons, a harness, and a helmet for a day from UMD was about $30.
What to wear: Warm but flexible clothing to move around in. Gloves for gripping the axes. A thin hat to wear under a helmet. Dress in layers!
window.fbAsyncInit = function() { FB.init({
appId : '1519251685112697',
xfbml : true, version : 'v2.9' }); };
(function(d, s, id){ var js, fjs = d.getElementsByTagName(s)[0]; if (d.getElementById(id)) {return;} js = d.createElement(s); js.id = id; js.src = "https://connect.facebook.net/en_US/sdk.js"; fjs.parentNode.insertBefore(js, fjs); }(document, 'script', 'facebook-jssdk'));