To help state residents struggling with increased food costs, the South Dakota Farmers Union has partnered with Farmers Union Enterprises to donate 35,000 pounds of pork to Feeding South Dakota.
"Farmers and ranchers are not immune to increased food prices. Like everyone else, our food costs have gone up, but our income hasn't," said Doug Sombke, President of the SDFU.
With about 80,000 South Dakota residents affected by food insecurity, the pork donated by the Farmers Union is badly needed, says Megan Kjose, development director of Feeding South Dakota. "When we speak to guests, some of the most important foods are proteins," she said.
The pork will be distributed to approximately 13,000 residents statewide via Feeding South Dakota's mobile food distribution. Through this program, volunteers provide 55- to 65-pound boxes of groceries for guests affected by food insecurity.
"The support we receive from our agricultural partners like the Farmers Union greatly contributes to Feeding South Dakota's work to address food insecurity in our state," says Kjose.
The 35,000 pounds of pork comes from Redwood Farms, one of the Farmers Union family of companies owned by Farmers Union Enterprises. Redwood Farms supplies premium pork products to upscale restaurants in New York, Chicago and other cities across the United States
Soy-based tires given to first responders
Farmers in North Dakota and Barnes County are giving back to local first responders this winter through their soybean checkoff dollars while encouraging soy-based innovation. In January, the North Dakota Soybean Council awarded the Barnes County Sherriff's Department a grant to purchase Goodyear soy-based tires for two of their squad cars.
"We're a small department with a limited budget, so this grant helps us a lot when we can save some money on larger purchases like tires," said Emma Nelson, clerk deputy in the sheriff's office.
To give back to their communities and support the use of soybeans, the North Dakota Soybean Council provides grants of up to $1,000 per organization for the purchase of Goodyear soy-based tires.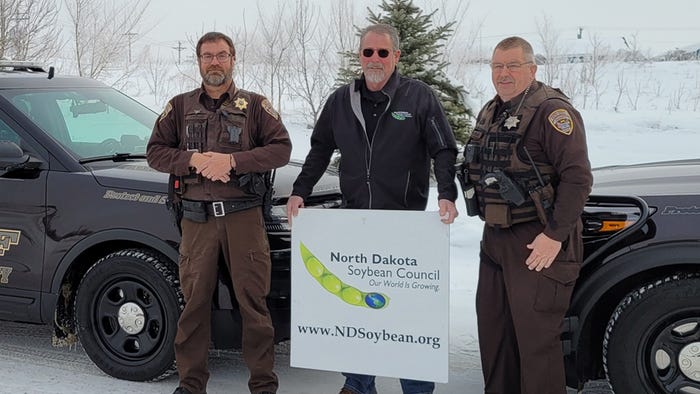 RIDE ON SOY: Barnes County Sherriff Sgt. Steve Loibl (left); Rob Rose, vice chairman of the North Dakota Soybean Council; and Sgt. Dan Anderson unveils new Goodyear soy-based tires for patrol cars. (Courtesy North Dakota Soybean Council)
"Many of us have had this terrifying moment where we needed first responders, whether it was a medical emergency, an accident, a fire or a crime," says Rob Rose, vice chairman of the NDSC and a Wimbledon soybean producer. "This soy-based tire ad is a way for the North Dakota Soybean Council and all soybean farmers across the state to say 'thank you' to our dedicated, brave and selfless first responders."
Since 2017, with support from the United Soybean Board checkoff, Goodyear has launched seven lines of tires using soybean oil blends. The Akron, Ohio-based company has increased its use of soybeans by 73% since 2018 and is committed to completely replacing all of its petroleum-fueled oils with soybean oil by 2040.
"Thank you to the North Dakota Soybean Council for offering this first responder grant program," said Sgt. Steve Loibl of the Barnes County Sheriff's Office. "I haven't gotten stuck this winter since these tires were fitted. We appreciate the generosity!"
Sources: South Dakota Farmers Union and North Dakota Soybean Council