New Mexico
Native Forward Scholars Names Three New Board Members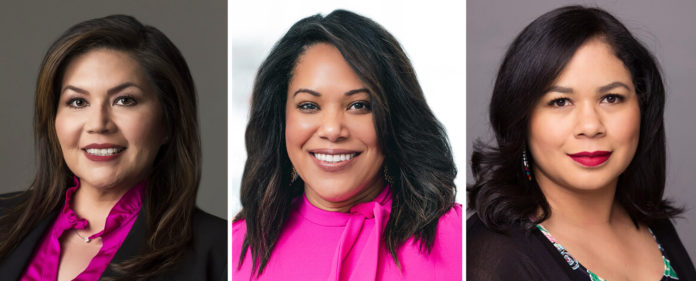 ALBUQUERQUE, NM – The Native Forward Scholars Fund has appointed three new members to its Board of Directors. The Board plays an important role in Native Forward's mission to increase the visibility of Indigenous people and ensure access to education within Indigenous communities. New members include:
Kimberly Teehiedesignated delegate of the US House of Representatives for the Cherokee Nation
Cecilia GutierrezManaging Director, Portfolio Strategy and Management, Blue Meridian Partners
Lilian Sparks Robinson, Owner and CEO Wopila Consulting
"I am honored to welcome such a strong group of influential women to our Board of Directors," said Angelique Albert, CEO of Native Forward. "Kimberly, Cecilia and Lilian bring a level of expertise and dedication that aligns directly with the vision of our founders. Throughout their highly successful careers, they have continually sought ways to improve the lives of tribal peoples, used their platforms to elevate the needs of our communities, and devised innovative strategies to build sustainable power on Indian land."
As the U.S. House Delegate-elect for the Cherokee Nation, Teehee's work in the federal government and his passion for Native American representation will reinforce Native Forward's advocacy for major changes in higher education.
"Native Forward is playing an essential role in the Indian country by creating pathways to higher education opportunities for Indigenous citizens across the country," Teehee said. "I am honored to join this organization and such a diverse group of local leaders on the board. As an advocate for a new generation of indigenous leadership, I hope we can open even more doors for our young people to thrive. When Indigenous students thrive, all of our tribal nations benefit, and as Indian Country continues to grow, we need more graduate degrees."
Gutierrez' dedication and passion for improving the lives of underrepresented youth and her commitment to increasing access to quality education will bring value to the local scholars who the organization serves.
"I am honored to join the Native Forward board of directors to support the leadership of our CEO, Angelique Albert and her talented team in their tireless efforts to transform the social and economic development of our native students and set them on the path to, her To give their best and greatest potential and continue to make lasting contributions to their communities and to our country," Gutierrez said.
Robinson brings to Native Forward a wealth of experience in nonprofit, grants and education management, as well as her work in tribal politics and government, which aligns with Native Forward's strategic plan to improve processes.
"Access, opportunity and resources continue to be a barrier to Native American students' ability to achieve their educational goals," Robinson said. "I am honored to serve on the Native Forward Board of Directors as we raise awareness, nurture partnerships and develop strategies that create pathways and support for Native students to complete their education and thrive in their careers."
For over 53 years, the Native Forward Scholars Fund has sponsored over 20,000 scholars from more than 500 tribes in all 50 states, leading to over 1,600 law degrees and more than 2,200 Ph.D. contributed. Degree.