This Date in Columbia History: Columbia Cemetery and the Farley Mausoleum
On February 1, 2007, Columbia Cemetery was listed on the National Register of Historic Places. The cemetery was established in the 1820s, just before or during Columbia's founding in 1821. At first it was a simple communal burial ground, but in 1858 the Columbia Cemetery Association expanded the area to a more formal cemetery.
The 2023 Columbia Cemetery spans 26 acres and now includes three smaller cemeteries with separate but closely related histories. The larger cemetery includes a section for African Americans and another section for needy (poor) people. The list of notable burials is long but brief: James S. Rollins, William Switzler, Blind Boone, Ann Hawkins Gentry, EW Stephens, Walter Williams, Henry Kirklin, Jane Froman, many University of Missouri presidents, two veterans of the revolutionary war, and a governor of Missouri.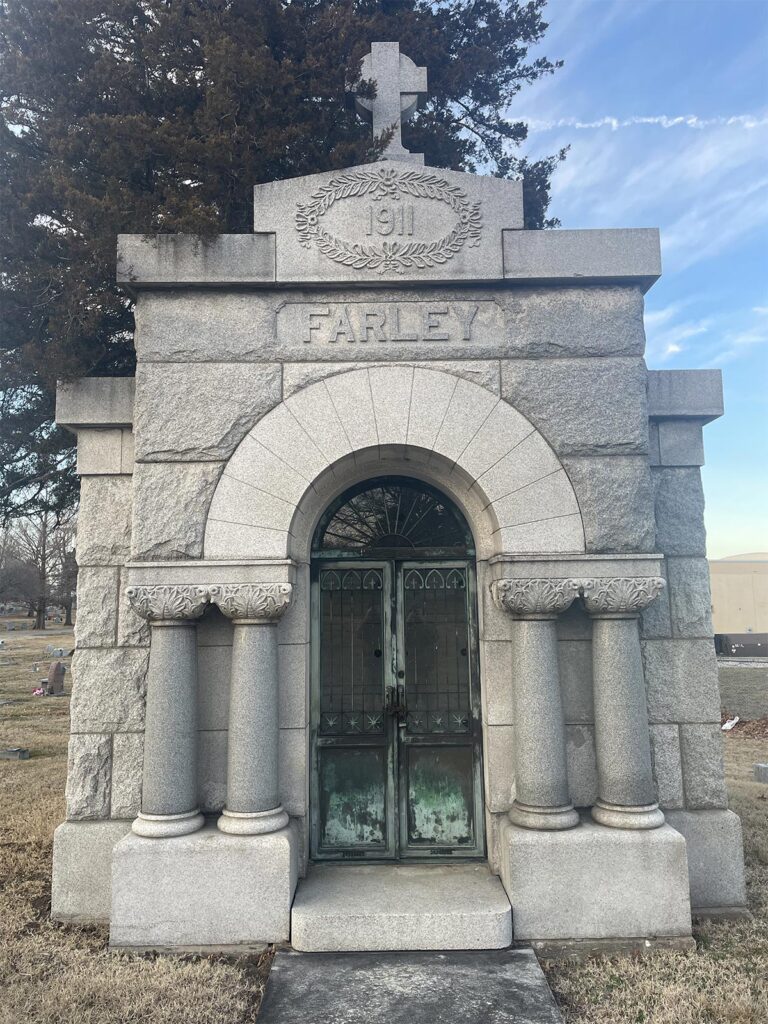 Farley's mausoleum is the largest in Columbia Cemetery and has an interesting connection to cemetery art. It was built by and for Irish native Edward Farley, which was his first funeral. Farley owned a marble business where he made and sold headstones throughout Missouri. The 1882 History of Boone County describes him as follows:
"In 1880 he returned to Columbia and established a large brick marble shop near the courthouse, where he is now actively in business, employing two hands besides himself; He has three agents on the road. He works in a highly artistic manner, using the finest marbles from Italy, Vermont and Pennsylvania; he makes tombstones and tombstones at prices ranging from tens to a thousand dollars a piece; His work is well known and represented in almost every cemetery in Boone and the surrounding counties. He runs a thriving business that is well deserved and generously gifted. In addition to his marble work, he owns substantial real estate in Colombia. Mr Farley is a member of the Catholic Church."
The Farley Mausoleum is described by Deb Sheals in the National Register of Historic Places nomination form:
"The Farley Mausoleum is the only mausoleum within the historical boundaries. (Two small later mausoleums are in an area added to the cemetery in the 1940s.) It is almost due north of the Reception Vault in Block 22. It is about the same size as the Reception Vault and is oriented south to the street. Set back from the road, the corners of its spacious grounds are marked by large concrete urn buckets. The planters may be newer than the building.
Farley's mausoleum is designed much higher than the reception vault. It consists of massive blocks of granite with rock walls, a high smooth stone water table and a stepped front parapet topped by a small stone cross. A carved stone laurel wreath set in the front wall below the cross surrounds the date 1911 and FARLEY is written in raised letters below the wreath. The central front door is crowned by an oversized arch of smooth stone blocks supported by pairs of short smooth granite columns. The heavy capitals of the columns bear stylized acanthus leaves. The double doors of the entrance area are covered with decorative metal grilles. The building is very intact and in very good condition.
Inspired by the preservation of Colombia's most impressive historical mausoleum, our group, CoMo Preservation, hopes to help homeowners, landlords and institutions prevent the destruction of historical architecture. Original styles of the era can be replicated but will forever lack the social history of authentic structures. Preserving historic buildings is necessary for Colombian residents, students and visitors to develop a sense of place and, consequently, to the continued economic prosperity of our city. If you would like to join our mission, sign up for our mailing list to receive news and updates.
This CoMo 365 blog post was created by Matt Fetterly using these sources:
Switzler, William F. (1882). History of Boone County. St Louis, Missouri: Western Historical Company. p.376. OCLC 2881554.
Sheals, Debbie (August 2006). Entry Form for the National Register of Historic Places: Columbia Cemetery. Columbia, Missouri: United States Department of the Interior. Retrieved February 1, 2023.
Columbia Cemetery Association (2023). About us. columbiacemetery.org. Retrieved February 1, 2023.
---
COMO 365 was written by Matt Fetterly for comopreservation.org. COMO Preservation's mission is to preserve the historic architecture of Columbia, Missouri. You can contact Matt at [email protected]