Some great things come from a lonely idea. The idea is then discussed with others, brainstormed, and next Gov. Gretchen Whitmer supports the idea with a proclamation that February will be called Community Support Month in Michigan.
So it happened for the small congregation of the Lowell United Methodist Church. Community Support Month is a program that recognizes health workers, first responders, educators and service workers each week in February. Grand Rapids resident and Lowell United Methodist Church worship leader Davin Risk was part of the think tank that started the project in 2022.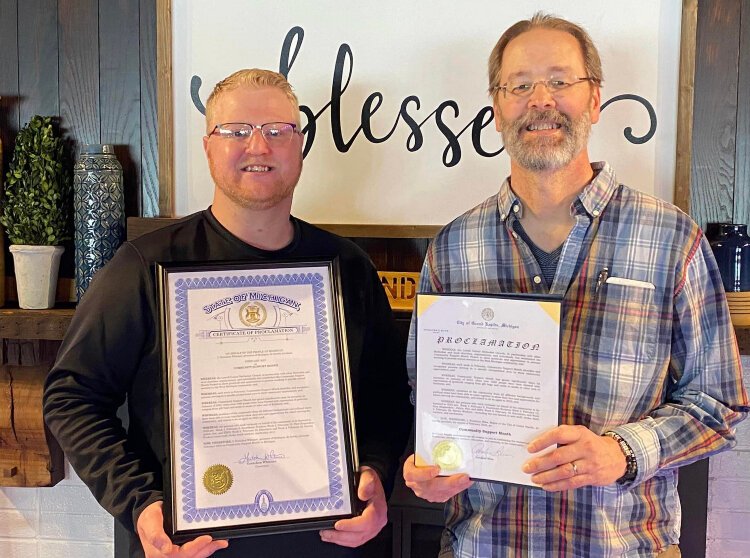 Davin Risk (left) and Rev. Brad Brillhart of the Lowell United Methodist Church hold copies of a proclamation by Gov. Gretchen Whitmer declaring February as Michigan's Community Support Month.
"We created visions with our church leadership, and during that process we thought about the world around us and asked ourselves, 'Okay, what are we seeing?'" says Risk. "It was a lot of fear and people living in fearful times. We thought about what we could do to show these (four groups) some appreciation. We came up with the idea of ​​picking a group of people each week and giving them a gift bag with little things inside. Also, there is a special prayer for this industry."
Deciding who should be recognized and how
Of course, there were many groups that probably deserved recognition, but when it came to making the decision, the church settled on four: health workers (doctors and nurses), educators (teachers, support staff, and bus drivers), first responders (police, fire, and paramedics) . ) and service workers (fast food, grocers and others). The church saw how these four groups shared great risk during the pandemic, but also weren't necessarily treated very well during these anxious times.
"Healthcare workers have been beaten up," says Risk. "First responders and police had to go through cultural battles, and then educators had to fully adapt to everything they knew about teaching, and parental frustration spilled over onto educators. The last group were service workers. Cashiers and restaurant workers — all those front-line workers — typically earn the lowest wages and put up with the most."
Last year the community decided to start small and provide about 25 gift bags for each group. It was a humble approach that grew pretty quickly. Not only did the church meet its goal of raising $700, but as word spread to the grassroots, that number reached $3,000, and it eventually recognized more than 2,000 people in Lowell and the surrounding communities. The church, building on last year's momentum, decided to create significantly more gift bags and enlist more volunteers this year, including a group of 20 students from Lowell High School. Last Saturday, the volunteers packed more than 1,000 bags. The gift bags were filled with lots of goodies like snacks, hand sanitizer, tissues, lip balm and industry-specific products like hand warmers for school bus drivers or small notebooks for police officers.
Connection with other churches and the entire state of Michigan
In preparing for this year, the Lowell United Methodist Church also hoped to reach more people outside of Lowell, including Grand Rapids. Several congregations in Grand Rapids – First United Methodist, Trinity United, Northlawn United and Aldergates United – met with leaders in Lowell and decided that they would all attend this year's Community Support Month. Matt Witkowski, director of church ministry at Trinity United Methodists in Grand Rapids, admired the idea when he first heard it.
"I love when the church is outside the walls, when you can connect with the community — that's number one," says Witkowski. "Getting out of COVID and really appreciating all of those areas. There should be a deeper appreciation."
This year, Trinity United Methodist decided to start small and create 50 gift bags every week throughout the month. Cross-generational groups will work together on the project, and a weekly panel will help educate people about the four workspaces and talk about appreciation, all with the goal of engaging residents to connect with their community.
"We have three or four people who attend a panel every week and have a few questions for them about the ups and downs of their work," says Witkowski. "We're trying to get a behind-the-scenes look at the field and the work they're doing for the community, about some of the things that aren't readily known, and getting it straight from them."
The Lowell congregation was more than happy to share their idea with other churches, but something exciting happened in the process. They approached the governor's office, and the idea was so popular that the entire state of Michigan is now involved.
"Something that was small now has an official explanation on the books…in Michigan, February is Community Support Month," says Risk. "Next year we will seek a national declaration and maybe we can get the White House to recognize it."
Recently, the Church has partnered with Betten Baker car dealership and Meijer grocery store, both of which have provided money to support the effort.
Not about self-awareness
And it all started with an idea: a group of thoughtful people in Lowell wanted to show their appreciation for the workers who help residents every day. That core grew into something bigger and has now gained momentum in several cities including Grand Rapids and Chicago. It has become an inspirational and passionate endeavor that has gone beyond recognition.
"To me, that's the embodiment of love," says Risk. "This is not to promote the church. The purpose of this is to love and spread love. If you lead with it, it also breaks down some walls for people. To see this happening and growing organically is really exciting. It's uplifting and a reminder of why you're committed to ministry in the first place."
Community Support Month is all about making a positive impact on as many lives as possible. Witkowski was struck by Lowell's willingness to share her great idea with others.
"Bringing your idea out into the world so that others can adopt it and not just selfishly keep it to yourself – it's an idea that you really want to change," says Witkowski. "Some ministries want to keep ideas to themselves: 'We want it to be just us.' But if you invite others and hope it grows and hope to let go and let go, it can affect more lives. I think that's pretty cute."
There are many ways to support Community Support Month. Individuals and companies can donate money or their time to support the program. A GoFund Me page was also created. For more information on how you can help, email Risk at [email protected] or visit the Community Support Month Project Facebook page.